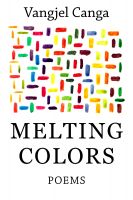 My newest poetry book "
Melting Colors
" is now available as a
free
ebook.
For the moment you can read a few selected poems from my other book "The Visual Non Visuals" and "Passenger Illusions". The idea is that all my publicly available poems are gathered at a single place. Therefore this book is and will remain
free
and will 'grow' with new poems (and not only) in the future.
The official book page is on
Smashwords
:
https://www.smashwords.com/books/view/286951
You can download the ebook in the above Smashwords page (under the paragraph "Available ebook reading formats").
The ebook is available in several formats: pdf, epub, mobi (Kindle), text, et. There is no need to register in Smashwords to download it in any format you like.
Besides Smashwords, you can find it also in the Kobo and Barnes and Noble Nook store (only in epub format, though, and you'll probably have to register there)
Personally, for reading on your
computer
I would recommend the PDF format, and the EPUB format for reading on mobile/portable devices (
iPhone, iPad, tablet, smartphones
).
In any case you can always choose any of the formats in the Smashwords page above.
Happy reading!
---
Copyright:
All rights reserved.
Although this ebook is free that doesn't mean that it is public domain.
You can, therefore download this ebook, send it to somebody else with email, or print it for personal use as long as you acknowledge:
a) the moral rights of the author, that is: you can not change this ebook or claim it or some of its poems, or other text as your own or as those of somebody else, or put poems or other text on blogs, Facebook and the like without the name of the author and the title of the book
b) the economic rights of the author, that is: you can not sell this book (or individual poems, or other text) for profit, either by printing it or by putting it in a site that requires payment for this ebook's download. Printing is allowed only for personal/family reasons (i.e. on your home printer) in a few copies (2-3 copies).
The preferred method if you would like to recommend this book to other people is to give them the Smashwords link and let them download it themselves. Otherwise, just send the ebook by email.
Thank

you

for your understanding!